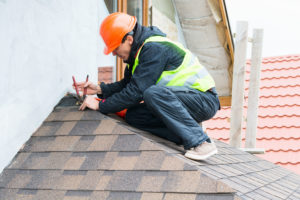 It's bound to happen to any homeowner…one day, everything is fine, then next, you're dealing with water pouring into your kitchen from a surprise roof leak. Or maybe a rogue hailstorm came by and made your roof look like it was attacked with a ball-ping hammer. Either way, roofing work can be costly and time-consuming. Save yourself some stress by asking the following 10 questions about any roofing contractor you are considering to work on your home. It might just keep your roofing project from turning into a financial disaster.
Is the contractor licensed, bonded, and insured (as required by law)? If the answer is no, move on to the next option.
Have they done jobs similar to this in the past? Can they provide references and photos? Professional, quality contractors will always have references and photos of their past work to show potential clients.
Will they provide an estimate in writing? A good faith estimate should always be provided in writing to protect both the contractor and the client. A detailed, well-written quote is a sign you're dealing with an organized and conscientious professional.
Do they have a plan for inclement weather? No one can stop the rain, but your contractor should have a process for how they handle inclement weather delays, such as covering the job site with tarps and guaranteeing no work will be done during wet, slippery conditions that increase the risk of accidents.
How do they plan on communicating progress or issues with you? Is there a dedicated contact person who will be on-site? Problems with communication early on, like while getting that initial estimate, are almost always a sign of problems to come. Opt for a contractor that has a clear communication plan and several different ways to contact them, such as via phone, text, social media, etc.
How will refuse be handled during and after the project? Where will the refuse container be placed? A professional contractor will either have their own refuse container large enough to handle your project or rent one at no additional cost to you. The container should be placed where it will not damage your property, should be emptied as needed during the project, and should be promptly removed at the project's completion, along with all remaining trash.
If your location requires permits for roofing work, will the contractor handle procuring the permits? Contractors often have established relationships with city and county officials who handle permitting, so a contractor that is willing to apply for and negotiate these details shows that they have the network and experience to get the entire job done.
What type of warranty does the contractor offer on the roofing materials and installation? Roofs typically come with at least 25-year warranties, but it's always better to double-check before spending thousands of your hard-earned dollars.
How will other parts of my home, such as gutters and landscaping, be protected? Reputable contractors will remove all items that could possibly be damaged during the project before they begin working and then return these items to their original locations upon finishing. Anything less is a job half done. To protect the sides of the home and gutters, ladder stabilizers and standoffs should always be available.
How will unexpected issues be handled? What happens if the contractor pulls up the old shingles and finds a rotten, irreparable wood layer underneath? Reputable contractors will immediately contact you and discuss additional work and costs and get your approval before continuing. Never pay for work that you were unaware of and did not consent to ahead of time. These unscrupulous practices are often the handiwork of scammers.
Never hire a roofing contractor without thoroughly checking their background and references first. Interview and get estimates from several different contractors to find one that fits with your personality, personal style, and budget. If you are in Pinellas County, make sure to put Shon Boswell Roofing on your shortlist of potential contractors for your next roofing project. Our years of experience, quality work, and excellent reviews make choosing us a no-brainer. Call (727) 440-5942 for your free estimate today!