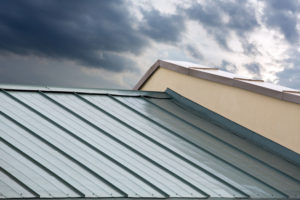 Is a metal roof the best choice for your home? Many homeowners are surprised by how many roofing options they have to choose from when building or renovating their property. It may be confusing or overwhelming to consider each roofing material's pros and cons to find the best fit. 
Let's take a look at the benefits of a metal roof so that you can make an informed decision on the roofing needs for your own home.
What Is a Metal Roof?
A metal roof system uses structured metal paneling on low slope and steep slope roof styles. Material choices for metal roofing include aluminum, copper, zinc, steel, and tin. You can select metal in many different types, including those that resemble shingles, tiles, shakes, or vertical paneling.
Metal Roofing Is Durable
One of the most significant benefits of metal roofing is its longevity and durability. Metal roofs can last as long as 70 years, depending on the material used. This is more than three times the lifespan of standard asphalt roofing!
When installed correctly, metal roofing can also sustain hurricane-force wind gusts. It doesn't crack or corrode and rarely needs costly periodic maintenance like other types of roofing. This is a massive perk for homeowners who want a "hands-off" approach to their roof upkeep.
Metal Roofing Is Energy Efficient
Metal roofs are also energy efficient in the summer because they reflect the sun's UV and infrared light rays. This reduces surface radiant heat along your roof, which, in turn, demands 10-25% less energy to keep your home cool.
Metal Roofing Is Sustainable
If you're looking for an environmentally friendly roofing choice, metal provides a great choice. Most metal roofing materials are up to 95% recycled. This huge improvement from shingle roofing contributes to 20 billion pounds of building-related waste per year.
Professional Metal Roofing Installation in St. Petersburg, Florida
Shon Boswell Roofing is the leading Tampa metal roofing company ready to build the perfect roof for your home. Our team of experts has the skills and experience to deliver the long-lasting results your property deserves. Call (727) 440-5556 to schedule your consultation.