If your roof is having problems, you have two options: rip off your existing roof and install a new one or lay your new roof down on top of your old roof. In some cases, it's best to add another layer to your flat roof, but not always. Here's what you should know.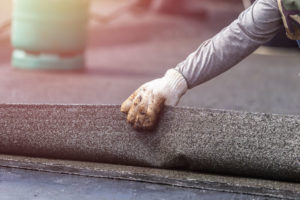 What Is a Flat Roof?
A flat roof actually isn't entirely flat, but it's close. A "flat roof" is installed on a very subtle angle so that it appears flat but actually contains a slight slope. This slope allows rainwater to drain off the roof. It is for this reason that a flat roof is also often known as a low-slope roof.
The exact slope is measured by the roof falling over 12 inches. For example if a roof has a 1-inch fall over 12 inches, it's called a "1 and 12," or a 3-inch fall over 12 inches is a "3 and 12." Anything under a 3-inch fall is categorized as a low slope flat roof.
Can You Add More Than One Layer onto Your Flat Roof?
Many commercial and industrial building owners want to know if they can add another layer onto their flat roof instead of replacing the existing roof altogether. There's no one simple answer since the best choice varies with every building and project.
Don't make this choice on your own, especially since every city and county enforce their own unique roofing codes. Request the help of the local building department so that you can learn the exact number of roofing layers allowed in your area.
In general, steep sloped roof products like tile, slate, and metal cannot be double-layered because they create a hazard. Asphalt shingles are most often allowed in up to two layers, but no more.
For flat roofs, materials such as EPDM and TPO are usually approved for use up to two layers.
The Benefits and Drawbacks of Adding a Second Layer to Your Flat Roof
More than anything, adding a second layer to your flat roof saves money. Consider all of the costs you avoid:
Dumpster and haul off fees
Old roof deinstallation costs
New insulation costs
On the other hand, removing your existing roof and starting fresh does eliminate concerns about the weight of the roof and the condition of the roof deck beneath.
How To Find Professional Flat Roof Installation in St. Petersburg
Shon Boswell Roofing is the leading Tampa flat roofing company ready to serve your flat pitched roofing needs. Using durable flat roof coating materials, we will find the best solution for you. Meet with an expert flat roofing contractor for the quality results your home deserves. Call (727) 440-5610 to schedule your consultation today.