How much thought do you give to the roof over your head? Probably not much, but the roof used to build your home influences how it handles rain water, snow, wind, and many other outside factors. Make sure you understand how construction differs with a flat roof so that you can make the best informed decision.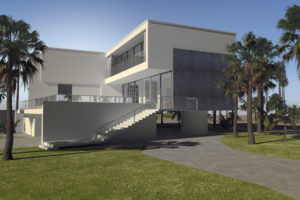 What Is a Flat Roof?
A flat roof actually isn't entirely flat, but it's close. A "flat roof" is installed on a very subtle angle so that it appears flat but actually contains a slight slope. This slope allows rainwater to drain off the roof. It is for this reason that a flat roof is also often known as a low-slope roof.
The exact slope is measured by the roof fall over 12 inches. For example if a roof has a 1-inch fall over 12 inches, it's called a "1 and 12," or a 3-inch fall over 12 inches is a "3 and 12." Anything under a 3-inch fall is categorized as a low slope flat roof.
How Is Construction Different?
Construction with a flat roof is very different from construction with a sloped roof.
First, a flat roof can't be constructed with shingles like a standard residential pitched roof. Instead, a flat roof must be fabricated with a more expensive material known as a "membrane". The membrane helps prevent leaks from standing water.
The small slope and membrane material work together to stop leaks and avoid structural damage often caused by standing water. If a flat roof isn't constructed properly, water will accumulate and start leaking into the rooms below.
The construction of a flat roof does offer a few benefits. A flat roof is a popular choice on industrial buildings because HVAC units and air handlers can easily be stored on the roof. Flat roofs are also easier and safer to walk on than sloped roof styles. They even provide more energy efficiency tanks to rigid insulation installation.
Flat Roof Installation in St. Petersburg, Florida
Shon Boswell Roofing is the leading Tampa flat roofing company ready to serve your flat pitched roofing needs. Using durable flat roof coating materials, we will find the best solution for you. Meet with an expert flat roofing contractor for the quality results your home deserves. Call (727) 440-5610 to schedule your consultation today.