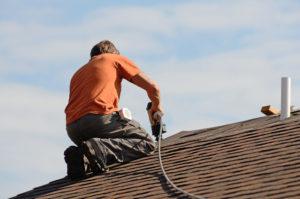 No matter what type of roof you own, it is recommended that you have your roof inspected formally twice each year, then again informally after each incident of strong wind or heavy rain, such as a tropical storm or hurricane.
You may want to do the informal inspections and one of the yearly inspections yourself to save some cash, but at least once each year, you need to hire a professional roofing contractor to conduct a full, comprehensive inspection of your roof and structure.
What will a qualified roofing contractor, like Shon Boswell Contracting Services in Tampa Bay, look for during a roofing inspection? Well, the following items will be assessed:
Condition of roofing materials (

shingles

, metal, tile, copper, etc.)

Debris accumulation

Physical damage (punctures, holes, tears)

Drainage/Gutters (important for all roofs, but especially flat ones)

Structural deformations (often from wet, rotting wood)

Granular loss

Fascia

Soffit

Flashing

Skylights

Chimneys & vents

Access and fall prevention points

Exterior wall surface deterioration
A complete roofing inspection doesn't stop outside. The best roofing contractors will also venture indoors to check out:
Water staining or leaks on ceilings or in interior walls

Ceiling cracks

Soft walls, bowing

Leaks around windows

Misaligned doors and windows
All of these interior issues can indicate a problem with the roof, and an experienced roofing contractor will be able to identify inside items that could be indications of roof damage.
Of course, you can take the pro route and hire a seasoned roofing contractor for all your formal and informal roofing inspections. When you've invested thousands of dollars in a new roof, especially if you went with a high end finish like tile or copper, spending the extra cash each year for roof inspections is well worth another drop in the bucket.
If you live in or around St. Pete, don't take any chances with your home or business' roof. With our frequent rain and wind, roofing damage can happen quickly. Contact us online to schedule your roofing inspection today!