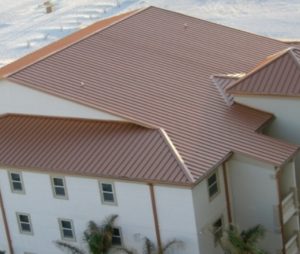 Every single day your home's roof is subjected to the elements like wind, rain, snow, and UV rays. The investment you put into your roof protects the entire investment in your home. Metal roofs are becoming increasingly popular for homeowners looking for long term protection. Many metal roof companies give up to a 25 to 50 year warranty on defects which is previously unheard of in the roofing industry.
Metal roofing has a Class A fire rating which is the most resistant and metal roofing panels also reflect the sun which prevents heat buildup during the day. As a leading metal roofing contractor, Shon Boswell Roofing is ready to help you receive the benefits of home metal roofing systems. We have 19 years experience to handle any corrugated metal roofing installation or metal roofing repairs.
Whether it's tin roofing, sheet metal roofing, or galvanized metal roofing we can meet with you and come up with the best metal roofing system possible for your home. There are many metal roofing colors and designs to accent your home and give you years of protection.
With your metal roof being such a valuable part of your home, it's important to hire certified metal roofing contractors. Rely on a professional metal roofer like Shon Boswell Roofing for all your metal roofing installations and metal roof repairs to ensure years of worry free security.