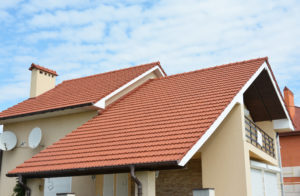 Your roof is one of the most expensive parts of your house, which is why it is such a big factor in your home's overall value. Whether it be old, improperly installed, or poorly maintained, a bad roof can allow water and debris to enter your home, causing mold, structural damage, and safety hazards.
Here in Florida, roofs are also subject to algae accumulation. Because of this, roofing materials that are used here must be algae-resistant to protect them from the damage that algae buildup causes.
Some of the most popular roofing materials to use here in the Sunshine State include:
Copper is an excellent option for Florida roofs. Copper weathers beautifully over time, changing from its recognizable orange to a gorgeous blue-green hue. Cooper is extra light, making it a great choice for extra tall roofs. Copper can be patterned or textured to the homeowner's liking and is considered energy-efficient since it deflects sunlight, saving on cooling and heating costs. As an added plus, cooper roofing can last up to 50 years with proper care!
Clay tile roofs are perfect for coastal areas since they hold up well to salt spray, sand, and high wind. They are fire and waterproof when installed correctly, but their weight makes them unsuitable for some applications. Even so, clay tiles give homes an elegant look with minimal upkeep, and they last just as long as copper. They come in a wide variety of colors and can even have patterns or textures. Spanish-style haciendas aren't really complete without a clay tile roof!
Concrete is a surprising contender for the best Florida roofing material. You may think of concrete as gray and heavy, but it is actually lighter than clay tile and comes in almost any color you can think of! Concrete can be dyed to mimic the look of wood, clay, slate, etc.… the possibilities are endless! Concrete is also resistant against mold, pests, and deterioration due to harsh weather.
Skip the shingles
Asphalt shingles might be cheaper than the materials listed above, but they have some significant cons you should consider. Asphalt doesn't do well in Florida's extreme sun and heat and has a tendency to curl, bend, and fade. They are also prone to wind damage and, unless specially treated, algae buildup. Asphalt shingles are made with crude oil by-products, so they aren't considered to be the most eco-friendly choice either.
There's a lot to think about when deciding which roofing material to go with for your Tampa Bay area home. Your personal style, budget, and external factors will determine what you ultimately choose. No matter which material you go with, the experts at Shon Boswell Contracting Services LLC. can install your new roof with care and professionalism. Call (727) 300-6205 or contact us online to get started on your roofing project today!