Whether you need your roof to be replaced or you are looking for someone to install the roof of your newly built home, you want to make sure that you hire the right contractor for the job. You should judge a contractor by several factors, including trustworthiness and integrity. But there are a few specific things that you should also be looking for.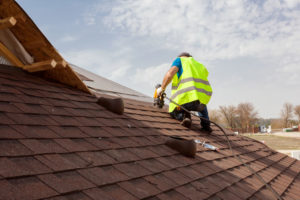 Licensed and Insured
The best way to tell if a roofing contractor is on the up and up is to ask to see their license and insurance. A roofer should have a business license, liability insurance, and worker's compensation insurance. Ask for proof of all of these before hiring. If you don't and someone is injured or property is damaged while they are working, you will be liable for the damages and costs.
Experienced
While every roofing team has a novice or two to assist, your roofing contractor should have several experienced roofers on your job site as well. These experienced roofers should be supervising novices and doing the majority of the shingling. Ask them how long they have been in business and how many years of experience the team has that will be working on your home.
Value Over Price
Installing a new roof on an existing or new home can carry a significant cost, but a necessary one. It can be tempting to go with the cheapest contractor. However, the cheapest contractor may not be the best value. They may have hidden charges, miss deadlines, or have poor workmanship. It is much better to choose a contractor that offers a mix of value and modest price.
If you are looking for a roofing contractor to install your new roof, contact us today to learn more or to get started with an estimate.