When you need a new roof or roofing repairs, you want to know that you have a contractor that you can trust to get the job done right the first time, on time. Finding a roofing contractor is fairly easy to do, but finding the right one for the job might require a little more effort. Here is what you need to look for in a roofing contractor of your own.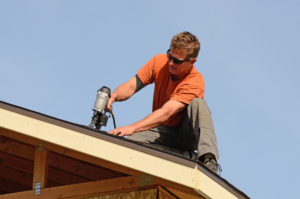 Licensed and Insured
A business that is not licensed is not a legitimate business. Your roofing contractor should not only be licensed, they should have all of the appropriate insurance certificates. They should have insurance that covers their workers in case of injury, as well as property damage and other liability insurance that might come up in the course of the work.
Ratings
You should try to find a roofing contractor that has some ratings available online or through the Better Business Bureau. Check out your contractor's online presence to determine if there are customers that are unhappy with their service. You can also ask your friends for recommendations, but make sure that you always check references regardless of where the lead came from.
Contracts
A contract between you and the roofing contractor is important. It isn't just about making sure that the contractor gets paid upon completion of the work. You need a service contract that guarantees that the work will be done, how it will be done, and when it will be done. A business that operates without a basic contract for services is not typically a trustworthy one.
If you are ready to get some roof repairs or a roof replacement, contact us today for more information about our services and how we can help.